For my middle brother's birthday, I decided to do something special for him.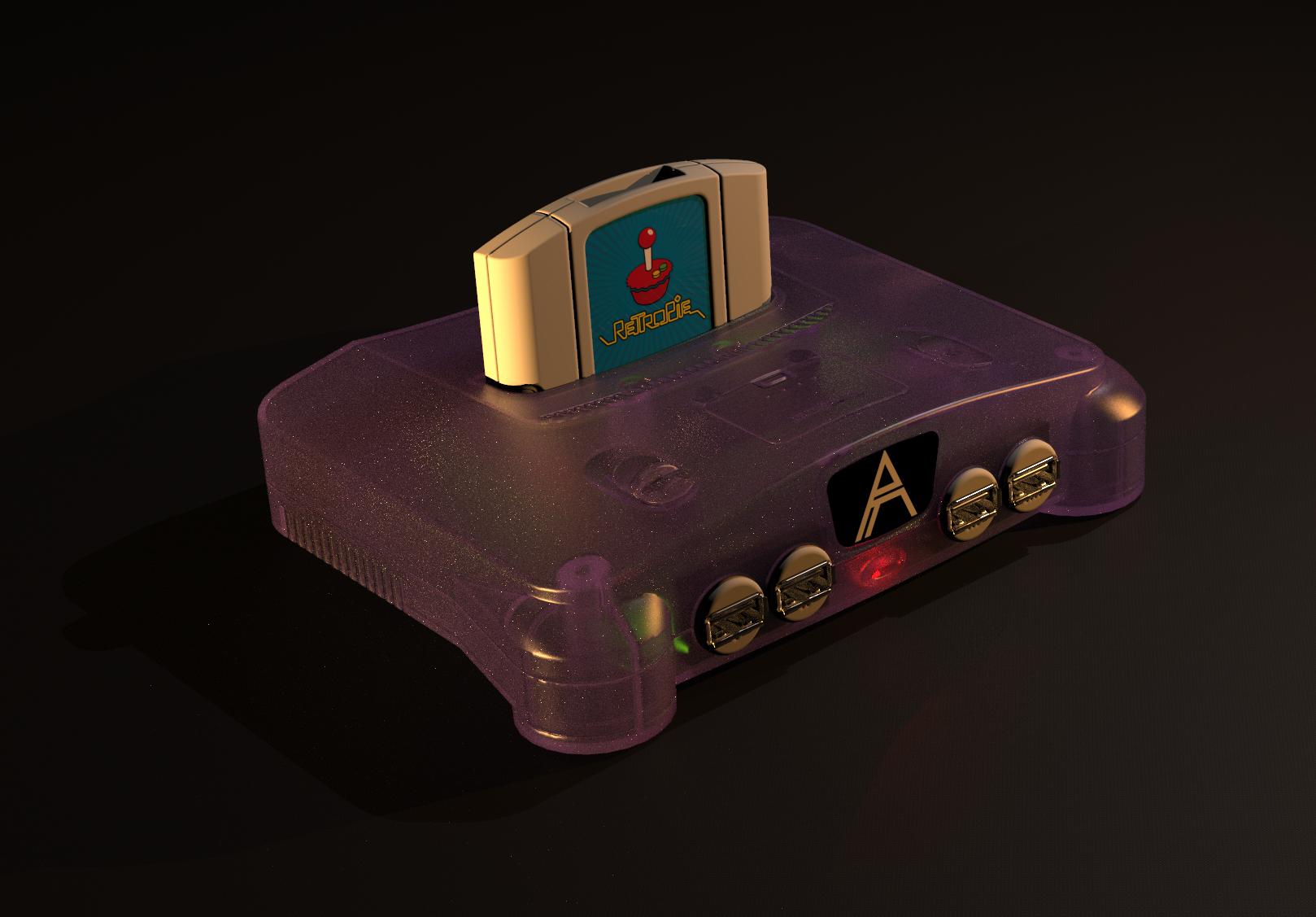 Premise
My brothers, several of our cousins and I grew up playing the Nintendo 64. We grew up, but my middle brother still loves to reminisce and play the older videogames. I, too, have dabbled with emulators, such as Project and Maupen 64. I couldn't think of a better gift to give Tripp than something that honors our childhood nostalgia.
Problem 
Newly married and just starting his career, he may be on the go, or not have a lot of space to store a console. I don't want to limit him to just Nintendo 64 games anyhow, (we also had an original Playstation, -that was broken for most of what I remember); thus, a microcomputer that can run emulators would be the ideal solution. I decided to go with the Raspberry Pi 3 B, as the firmware Retropie is not firmly supported on the Raspberry Pi 4, the 3 is cheaper, and I assumed there would be many more online resources for help, if needed.
 Though Tripp is not a stickler when he makes things for himself, he is incredibly particular and appreciative when products are well thought out and detailed. When I looked to the current available models for miniature Raspberry Pi casings themed like the N64, and knew none of them would suffice. A popular version known as, "
π64
" on Thingiverse is a fairly decent model, despite a poor demonstration print. I knew that having non-functioning ports, with the actual ports on the side would be, "dumb" in Tripp's opinion.
 I decided to start from scratch. Fortunately, I was able to find a few models of a to-scale Nintendo 64 console. Unfortunately, most of these models were single-part, mesh models, -which SolidWorks failed to successfully convert into a solid body. I eventually found a model that would suffice, but had to spend a good amount of time repairing the model and fixing a great number of features, prior to shrinking it to the desired scale and shelling it out. The front section, where the expansion pack goes is less raised than the original 64, but I liked this. It seemed more modern; and I knew it would be more aesthetically pleasing in the context of a miniature model. Tripp is a fan of revisions, so long as they stay true to the original form, so I would imagine this would not bother him. 
Keeping as many features and details as possible. I wanted to move the SD card, (where the games are stored) to the top of the game cartridge, rather than under an easily-lost expansion pack panel. Logically, the games should be stored where the games were once stored. The original ports would be substituted with USB ports, thanks to the
plethora of PC-emulation based controllers found on Aliexpress
. I remember when Tripp had his 2003 Mustang, he disliked the non-functioning side scoops for air; therefore I retained the functionality of all the original vent locations. Despite adding heat sinks to the board, a 30mm fan from my 3D printer was added, (40mm would require a bigger shell than I desired, and there was no room for an additional fan). The USB extension cables and Ethernet extension cable, (Ethernet port is located on the same side as the USB ports on the motherboard, thus it needed to be rerouted to the rear like all accessories to the N64) would take up much of the internal room; therefore the 30mm fan was strategically positioned at an angle, at the front of the motherboard to not block the way of the hardware, while maintaining maximization of air circulation to keep the board cool. Fortunately, keeping the Pi cool is not necessary, but is advised by many users of the Pi 3 for optimizing the lifespan of the board.
Using a reference model of the Pi3B, 30mm fan, Ethernet port, and USB boards, and a recreated button and power switch, (for functioning Power and Reset buttons) I was able to successfully dial in the precision of most all the ports on the first try, (only the USB ports needed a subtle revision, but I was going to revisit them anyways). I used a color scheme for the shells as a transparent glass, which resembled the atomic purple Nintendo 64 and accessories that were popular, (we had an atomic purple controller back in the day) thus this became my preferred scheme for viewing the model and first renders. Using a dial caliper, I spec'd the shell's thickness, and screw posts to an appropriate thickness for structural integrity. The shell split was done along the ports, like the original console; and both the shells and the screw posts were chambered inwards to insure proper shell alignment when the model is assembled.
While working on the screw post locations and contemplating rendering, I saw an original atomic purple 64 online, and decided to replicate the front screw posts, rubbings, and controller port pieces in a similar fashion.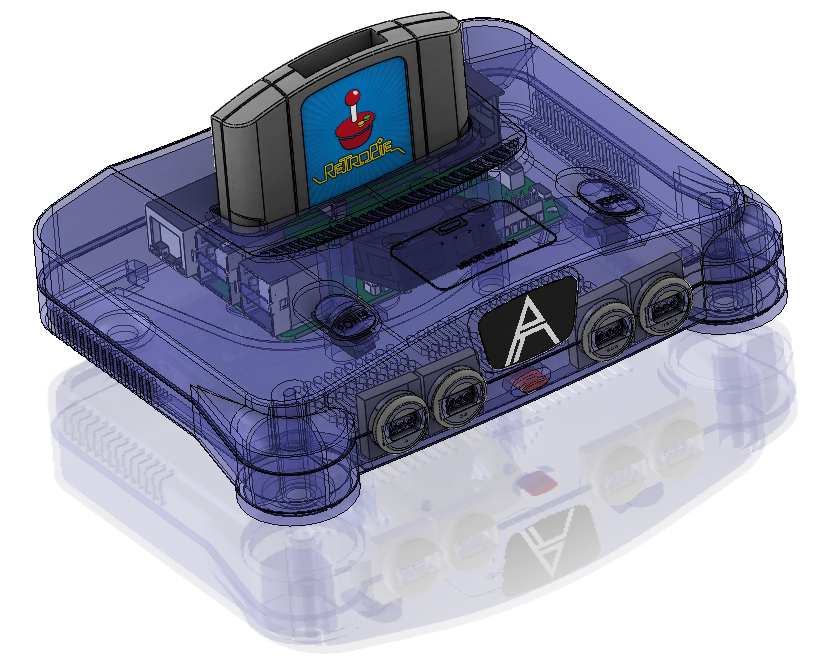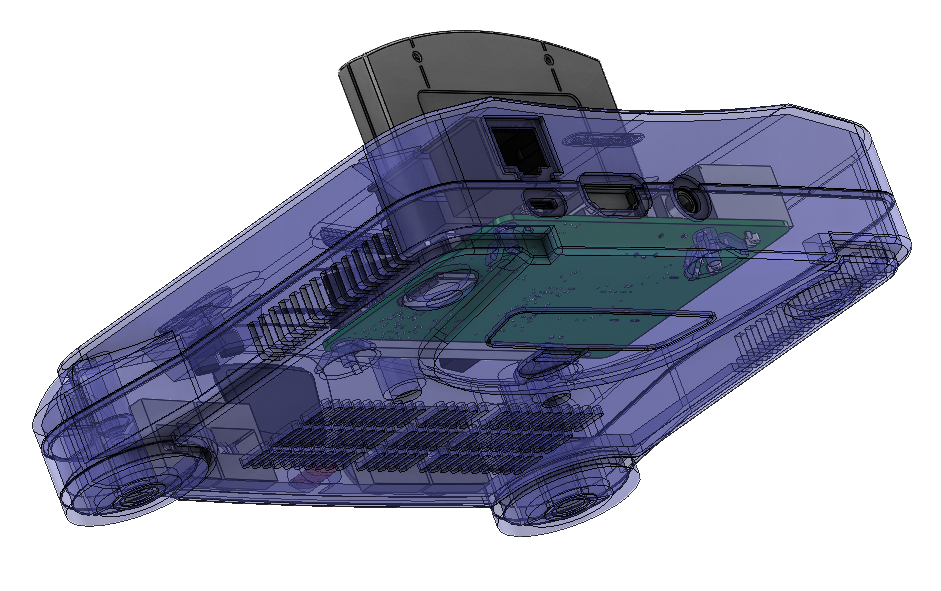 Box Art
Box art recreation/modification from skewed screenshots, captured from unboxing videos, stretched to the proportions of the die cut I will need to ship this miniature console effectively. This is a work in progress.
Process Captured via Instagram Story

Test Print
This is a work in p USB ports have since been revised for better fitment.